From Emory News Center – read original article here. 

Joe Reynolds wasn't born into a farming family. But that didn't stop him from finding his way to a life deeply rooted in the rusty Georgia soil.
For the past 12 years, Reynolds and his partner, Judith Winfrey, have been raising organic crops on leased land — first at the Glover Family Farm in Douglasville, and for the past nine years at Gaia Gardens, a four-acre certified organic farm owned by East Lake Commons, a cohousing community in Decatur.
Their urban operation, Love Is Love Farm, produces about 30,000 pounds of seasonal fruits and vegetables every year, and together they've become deeply entrenched in the local sustainable food movement, supplying fresh produce to a robust stream of community supported agriculture (CSA) customers and area restaurants.
They're also among an emerging wave of "landless farmers" — a new generation of agricultural entrepreneurs who didn't inherit the family farm and lack the capital required to buy their own land outright.
Farmer Joe Reynolds raises organic crops on land he leases in Decatur.
Reynolds will tell you the ability to work on leased farmland has been an incredible opportunity, a business incubator and essential building block toward becoming a better farmer, which has helped stabilize his business.
As for buying his own land? For farmers like Reynolds, that's not only financially daunting, the mounting barriers to land ownership sometimes make it seem nearly impossible.
However, a new partnership between Emory University and The Conservation Fund aims to help break down those barriers through an innovative collaboration designed to support next-generation farmers across metro Atlanta while boosting the supply of fresh, local, sustainably grown food for Emory's campus and hospital communities.
It works like this: The Conservation Fund's Working Farms Fund will purchase farmland within a 100-mile radius of metro Atlanta, place conservation easements on it to permanently protect it from development and harmful environmental practices, and lease the land to farmers with a 10-year path to ownership, selling it to them at the end of their lease.
"Using the tools of conservation, we are able to purchase agriculturally significant land in the area, restrict development on that land and ensure that it stays a farm forever," says Stacy Funderburke, assistant regional counsel and conservation acquisition associate at The Conservation Fund.
In turn, Emory will enter into food purchase agreements with those farmers — advance commitments to buy their sustainably raised crops and livestock that allow the university to purchase food at a savings.
"Emory's partnership with The Conservation Fund will ensure that farmers have a reliable market for their crops, while improving healthy and sustainable food options for our students, faculty, patients and employees," says Ciannat Howett, director of sustainability initiatives at Emory.
"Our commitment to purchase sustainably and locally grown food means The Conservation Fund will be able to provide better market opportunities for farmers, as together we create an innovative new model for funding sustainable agriculture in our region."
Food purchase agreements will not only provide area farmers with a reliable market and collateral for securing loans and financing, they'll also go far in helping Emory meet its ambitious goal of procuring 75% of food served on campus — and 25% in hospitals — from local or sustainably grown sources by 2025.
"We're leading through innovation," says Mindy Goldstein, a law professor who directs Emory's Environmental and Natural Resources Law Program and the Turner Environmental Law Clinic. "This is not happening anywhere else, to the best of our knowledge, so we really have an opportunity to develop a model that could be pushed out across the country."
The effort is drawing praise from First Lady of Georgia Marty Kemp.
"I applaud these organizations for coming up with innovative approaches to promote agriculture in metro Atlanta," says Kemp, who is working closely with the Georgia Department of Agriculture to advocate for the Georgia Grown initiative. "From providing farmers with the necessary resources for success, to opportunities to market their products — this is an excellent partnership."
---

Partnerships create new pathways
The pioneering partnership emerged from work being done at the Emory School of Law's Turner Environmental Law Clinic, which each year provides more than 4,000 hours of pro bono legal representation to individuals, community groups and nonprofit organizations seeking to protect and restore the environment.
Staffed primarily by Emory law students — who helped draft the initial memorandum of understanding — the clinic has represented The Conservation Fund since it first conceived of the Working Farms Fund about six years ago, Goldstein says.
The idea for the Working Farms Fund came about, in part, because The Conservation Fund recognized that development throughout metro Atlanta was bringing with it the rapid destruction of viable agricultural land.
"Buying land is incredibly hard for anyone, but especially for beginning, young and minority farmers, who've historically found it nearly impossible," Goldstein says. "Generally in America, you inherit farmland. Institutional racism often precludes that, and beginning farmers are just not in the pipeline."
At the same time, local, sustainably grown food remains in high demand in cities across the country. Yet many of the small to mid-sized urban farms that could supply it are at risk of being lost to development, placing them out of reach to next-generation farmers.
Jamila Norman, who's been raising organic produce at Patchwork City Farm in metro Atlanta for 10 years, has seen the strain that shift has placed upon the city's urban producers. "I know at least three farmers who've had to move their operations three times," she says.
For Norman, who walked away from a career in engineering to farm, buying her own land was a critical step toward stability. "I had to cash out my retirement and empty all my savings to find a property I could own outright," she says. "You do what you have to do."
Recognizing limitations faced by local producers, and resolved to meet its own sustainability goals, Emory took a proactive step: What if Atlanta's largest employer began working directly with farmers, committing up front to purchasing their crops? What if Emory created its own pipeline for local, sustainably raised food?
---
"Through our partnership with The Conservation Fund, we wanted to send a signal to farmers: If you grow sustainable food locally here in Georgia, we will buy it."
Ciannat Howett, Emory director of sustainability initiatives
---
Contributing to a sustainable food system is deeply woven into the university's broader sustainability goals. Sustainably produced foods help support environmental health, worker welfare and wages, as well as preserve farm viability; working with local providers also reduces the impacts of transportation, helping to lower the university's carbon footprint.
"Helping increase local food production is good for everyone," Howett says. "Our sustainability goals also call for us to have a resilience plan — the ability to guard against disruptions to our supply chain. With climate change, you need to think about food access, including what it could mean for Atlanta and Emory."
"As we plan for that, we need to put in systems that will continue to allow us to thrive," she says. "Agriculture is a huge part of the Georgia economy. This partnership helps metro Atlanta have access to local food, while helping support farmers, farm families and farm communities."
Emory already has a food purchase agreement with the Oxford College organic farm, an 11-acre farm adjacent to the university's Oxford College campus that annually produces about 25,000 pounds of fresh, healthy food for Emory dining halls, CSAs and farmers markets, as well as providing hands-on learning opportunities for students across many disciplines.
Emory's Atlanta campus currently purchases a little over 40% of its food from local and sustainable sources; Oxford College is closer to 45%, says David Furhman, senior director of operations for Campus Life. "Because of the enormous quantity of food served on this campus, we needed to look for new partners for doing innovative work," he says.
"These ventures take time to come to fruition, so it's critical to start now with a program that promises to be mutually beneficial to all parties," he says. "We're excited and proud. I can't think of a better way to demonstrate our commitment to the community."
The agreement will also encourage Emory faculty and students to conduct research on participating farms. That could range from studying carbon sequestration, climate mitigation and climate-smart agricultural practices to public health issues and purchasing models, notes Howett.
That's welcome news for Vanessa Ishimwe, a senior studying environmental and political science in Emory College of Arts and Sciences who recently helped plan Emory's Sustainable Food Fair.
"As an institution of learning and member of our broader community, Emory has a responsibility to educate ourselves and help educate others about how we can be responsible to our environment — how we can make sure that the resources that we get to enjoy are also enjoyed by future generations," she says.
---

Changing agricultural landscape
On a misty fall morning, 24-year-old Demetrius Milling drives through a sleepy residential East Atlanta neighborhood filled with brick houses and tidy lawns.
Parking his Jeep at the end of the block, he unlocks a gate and strides into what has become both his workplace and classroom — a quiet pocket farm thriving amid a bustling cityscape. The swell of morning bird song rises against the steady buzz of airplanes passing overhead.
It took time for Milling to find farming. But in the four years that he's worked as an assistant manager at Love Is Love Farm, he's embraced a calling. There is satisfaction working in nature and feeding a community; no two days on a farm are ever the same.
While Milling can't imagine anyone his age having the capital to buy their own land — and he and Reynolds have no immediate plans to move — he knows that for next-generation farmers, the Working Farms Fund could be a game-changer.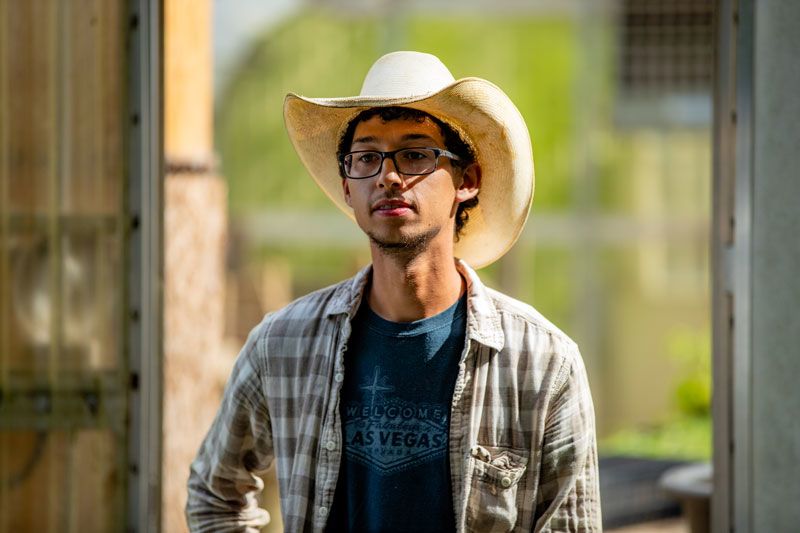 At 24, Demetrius Milling is part of a new generation of Georgia farmers.
In the U.S., farming is a shrinking vocation — national statistics indicate less than 1 percent of Americans are now farmers; about 96% of those farms remain family owned, according to the USDA 2017 Census of Agriculture. Like Milling, one in four of today's producers is a beginning farmer with 10 or fewer years of experience.
America's farmers are also aging; one-third are now over the age of 65. Yet as the USDA's beginning farmer regional coordinator in Georgia, Rodney Brooks says he sees "diverse people from a number of backgrounds interested in getting into farming."
"There is definitely an interest — I get all types of calls from people wanting to enter into the business," he says. "You've just got to have access to capital and land to do it."
That's where the Working Farms Fund could make a difference, especially in serving emerging, non-traditional producers. For example, The Conservation Fund has already been in talks with a group of farmers in the Georgia Korean Farmers Association that is collectively seeking to farm about 100 acres of land.
"They already have solid demand from the Korean American community in Atlanta and have the potential to expand their current operations significantly," says Kenny Fahey, a food ventures associate with The Conservation Fund.
Reynolds sees the value in those kinds of community collaborations.
"The number of small farms within the city is on the rise," he says. "But we haven't seen an explosion of farm ownership. As we watch the metro area continue to grow, The Conservation Fund is trying to make sure that we hold onto those important spaces. I think it's a big opportunity."
From the classroom to the operating room, campus water recycling facilities to green roofs atop campus residence halls and hospitals, Emory has demonstrated a deep commitment to sustainability through its investment in transformative, often groundbreaking, practices.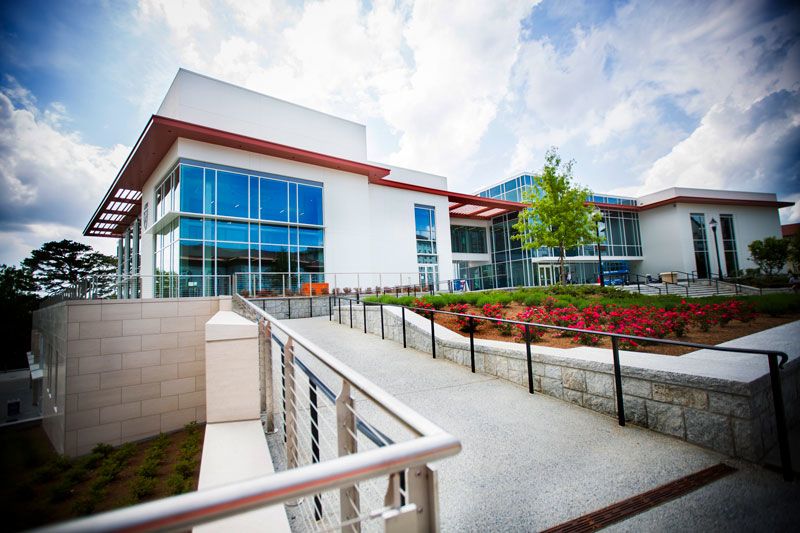 Sustainability emerged as a foundational principle when it was inscribed into the university's Sustainability Vision and Strategic Plan in 2006. Since then, Emory has become a nationally recognized innovator in green building design and construction, waste diversion and recycling, sustainable food procurement, and energy and water conservation.
"Sustainability at Emory relates to our quality of life," Howett says. "A community is sustainable if economic, social and environmental systems provide a healthy, productive and meaningful life for all community residents, present and future."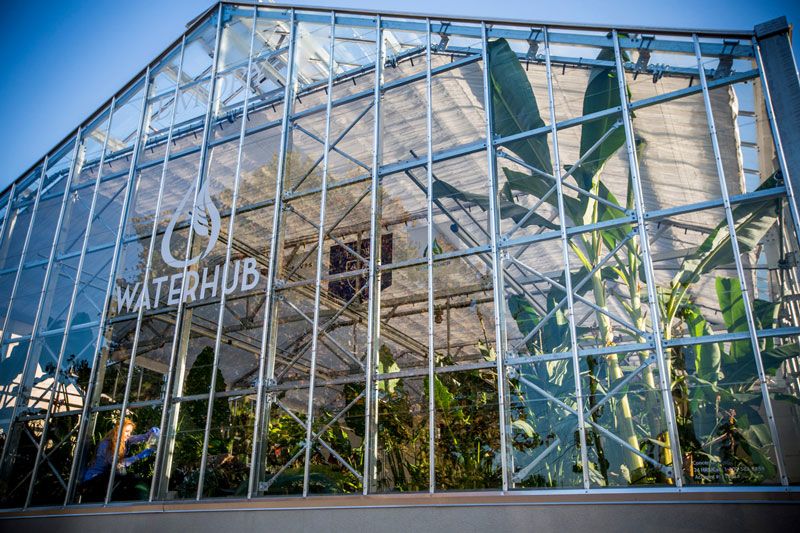 Emory's WaterHub is the first system of its kind in the nation, capable of recycling up to 400,000 gallons of water each day.
Within that broad commitment, sustainable food procurement and providing access to healthy, seasonal and local food have become critical cornerstones, says Goldstein, a Sustainability Faculty Fellow who helps lead Emory's Sustainable Food Committee, which first adopted sustainability guidelines for food purchasing on campus more than a decade ago.
Today, the work of the Sustainable Food Committee continues with faculty, staff, students and administrators from across the university and Emory Healthcare. The committee has defined what counts as local and sustainably grown food, with priority given to Georgia growers and farms in an eight-state Southern region in order to reduce transportation costs and help rebuild the Southern agricultural economy.
"The policies set by Emory's Sustainable Food Committee align our purchases with our values," Goldstein says.
Emory's latest partnership with The Conservation Fund adds to that legacy, building upon academic programs in sustainability-related fields, committees and initiatives that address environmental concerns, ambitious zero-landfill waste and recycling policies, a No Net Loss of Forest Canopy policy and a campus-wide commitment to LEED construction standards.
Together with active partnerships in Campus Services, Campus Purchasing, Campus Life and Emory Dining, and all academic units, Emory has seen dramatic progress, continuing to press for innovative change, Howett says.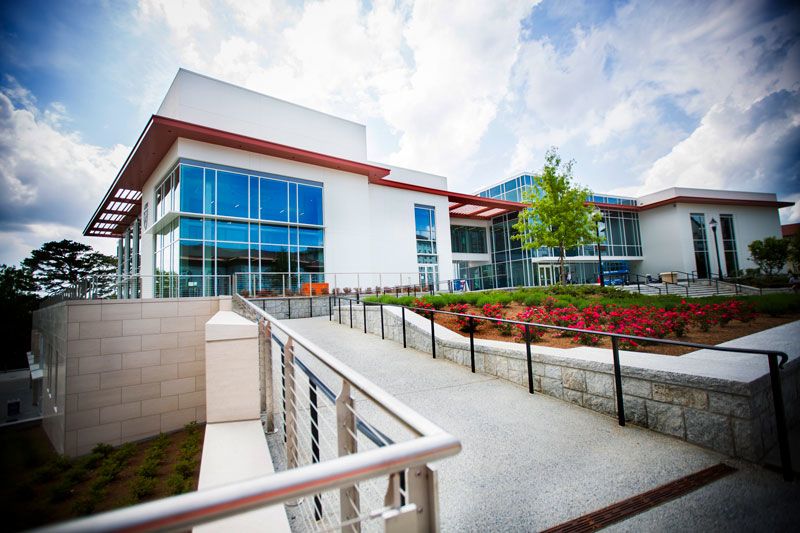 The new Emory Student Center is the first campus building to earn LEED platinum status, the highest certification for sustainability.
Nowhere is that more evident than the new Emory Student Center, which earned the university's first platinum LEED (Leadership in Energy and Environmental Design) rating from the U.S. Green Building Council — a designation that represents the pinnacle of energy efficiency and sustainability practices in building design and construction.
The Emory Student Center joins 35 campus and health care buildings that have been built or renovated to LEED standards, adding to a growing record of the university's sustainability achievements: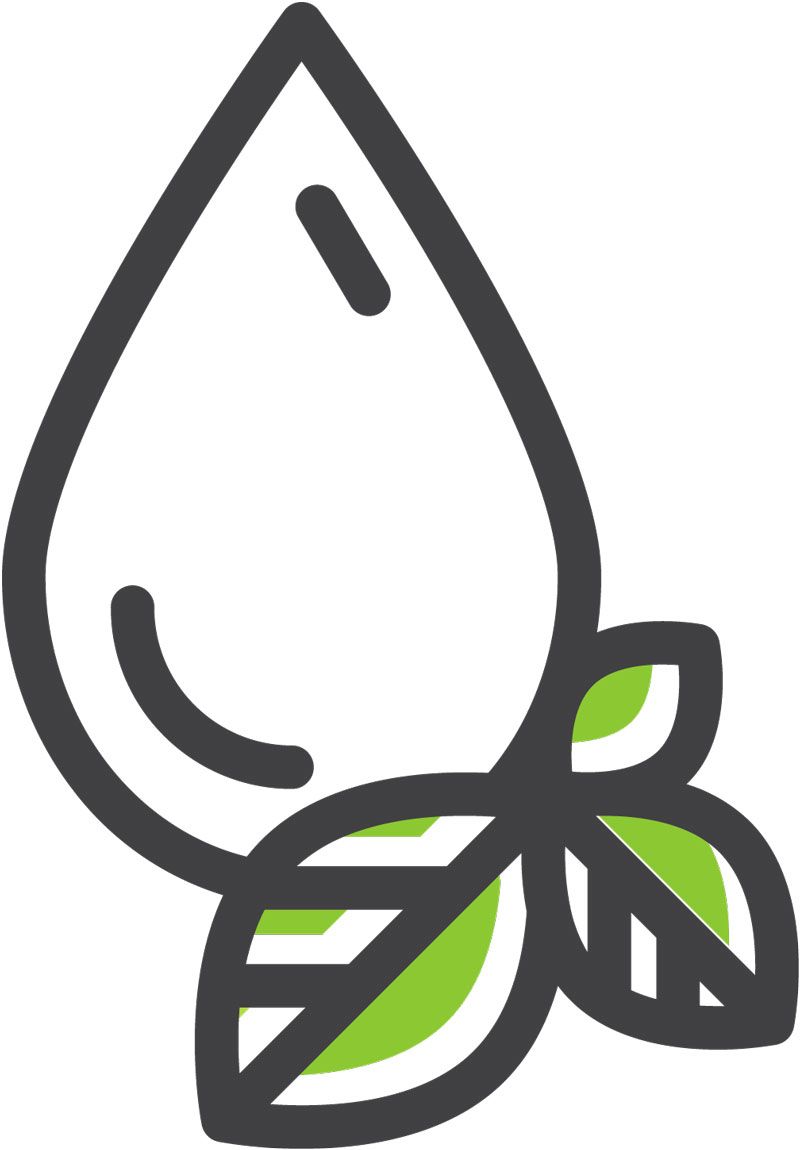 The award-winning WaterHub, which uses an eco-friendly process to treat wastewater for heating and cooling campus buildings, has helped reduce reliance on local resources and reduced Emory's water footprint by more than 40%, which is projected to save the university millions in water utility costs over 20 years.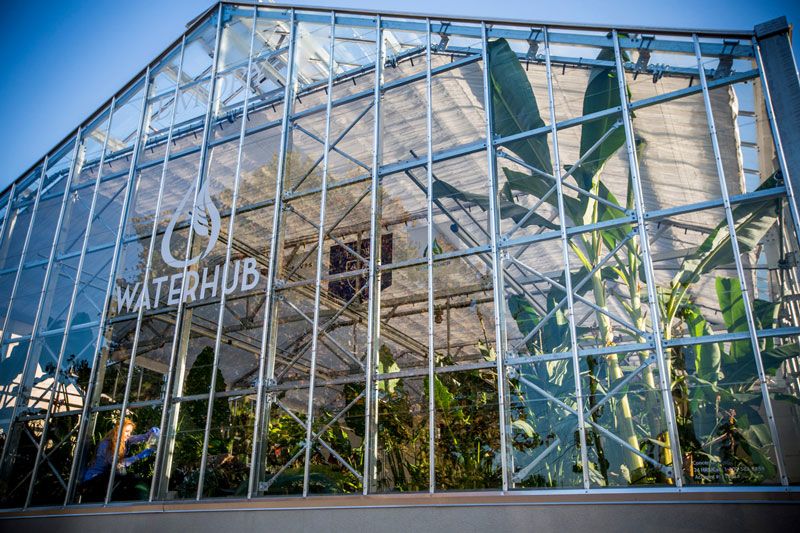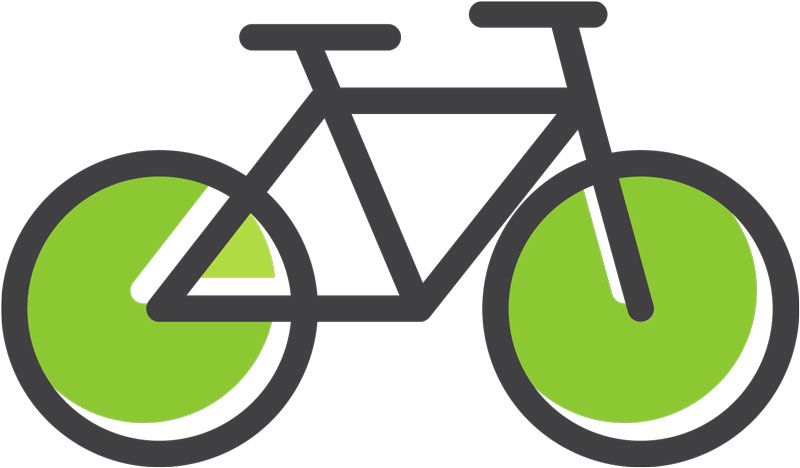 The Cliff Shuttle system runs on biofuel derived from recycled cooking oil and transports around 3 million riders annually. Emory also offers robust commute options, CarShare programs, electric vehicle charging stations and expanded bicycling/pedestrian pathways to campus.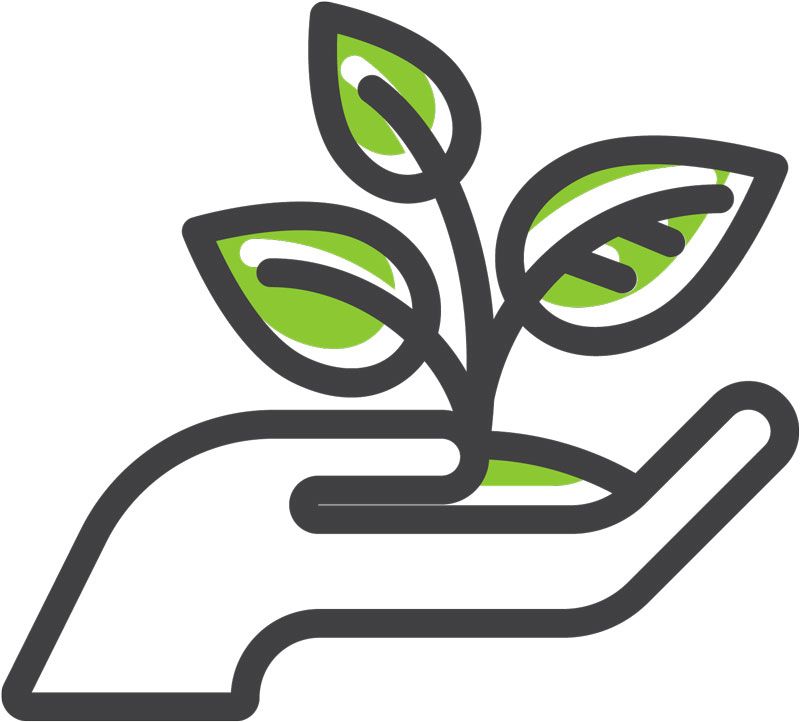 The Oxford Organic Farm at Emory, one of the top 30 sustainable college-run farms in the nation, cultivates food for Emory Dining, Emory Farmers Market and a robust community agriculture subscription program while offering students — who provide much of the labor — hands-on learning experiences. It also serves as a laboratory, where faculty connect course curriculum to lessons offered on the farm.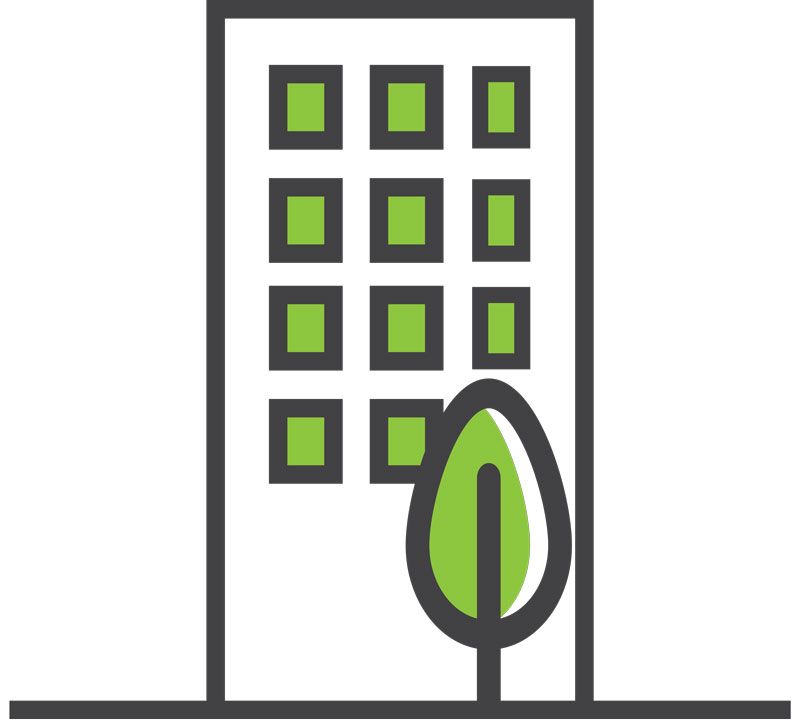 Green roofs and roof-top gardens help cool buildings, reduce run-off and help pollinators, while educational garden projects produce fresh food, engage students, faculty and staff and educate new gardeners.
Emory Recycles leads an ambitious waste policy that seeks to divert 95% of campus waste from landfills by 2025 — effectively a zero-waste policy. That encompasses composting, recycling or reusing food waste, non-hazardous animal bedding and construction materials.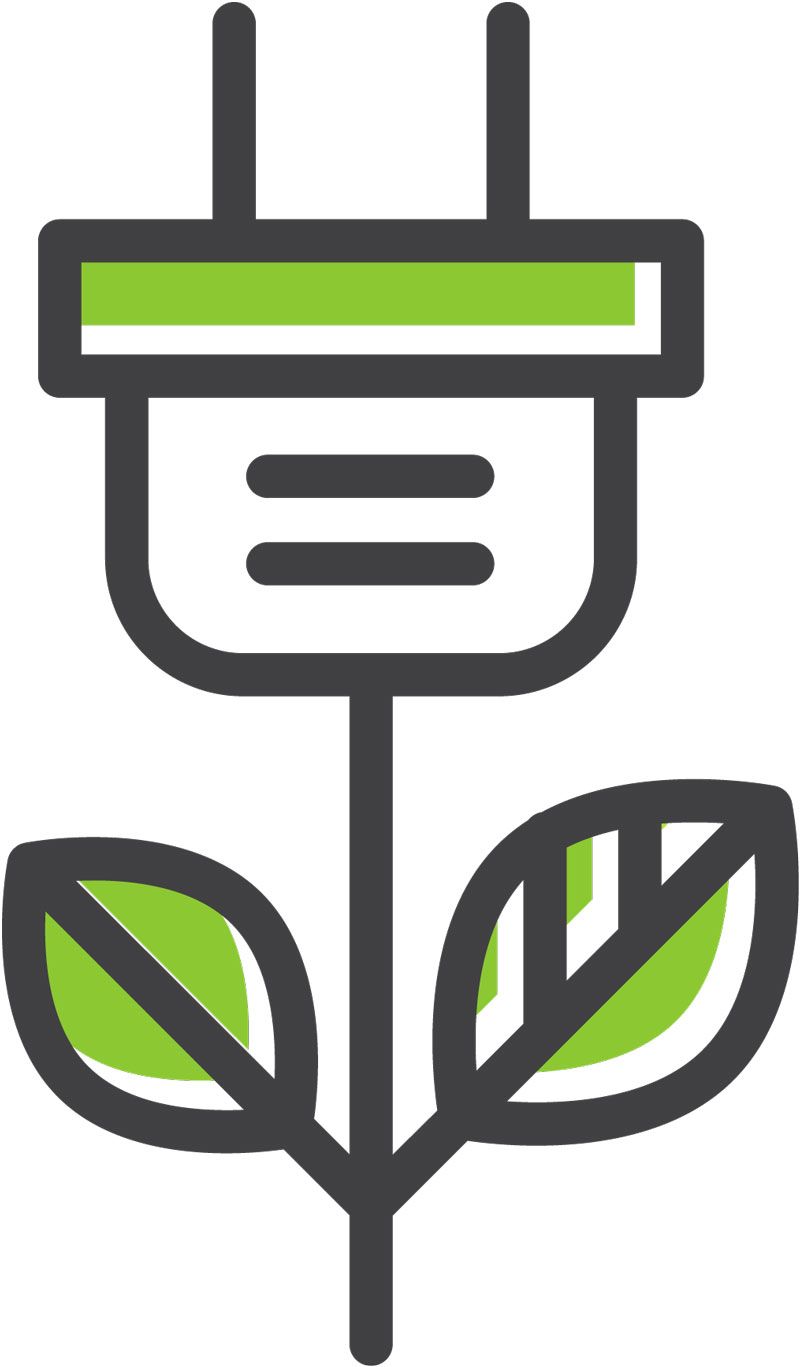 Renewable energy and energy efficiency are cornerstones of Emory's quest to reduce fossil-fuel use. The university has already met the goal of reducing campus energy use per square foot by 25% from 2005 levels, at a cost savings of over $25 million. Since then, energy consumption has dropped another 3%, with renewable energy sources on the rise, including solar and geothermal components.
Sustainability efforts in Emory Healthcare are targeting waste and energy reduction; Emory University Hospital Midtown alone has cut energy consumption by over 30% per square foot since 2009.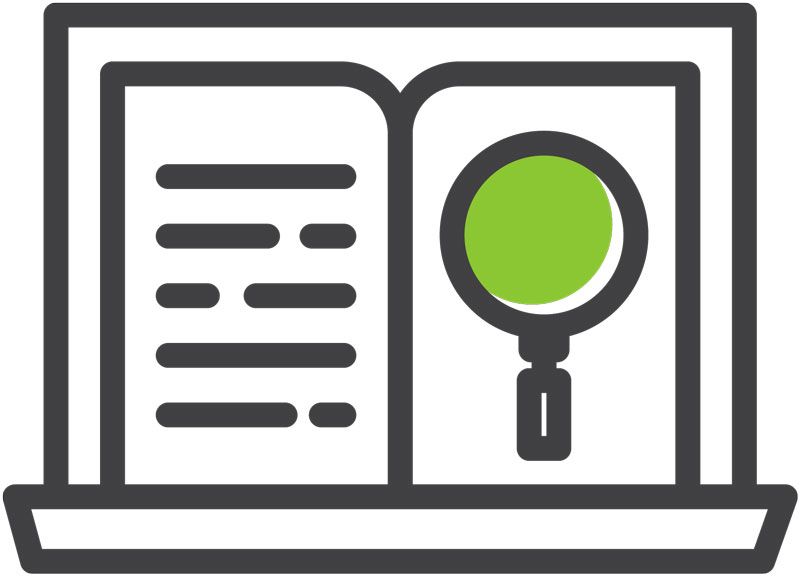 Emory fosters a sustainable future by educating future leaders. To achieve that, Emory faculty have created or modified more than 400 courses in 40 academic departments that relate to sustainability. Some 61% of academic departments offer sustainability courses, and Emory has developed two minors in sustainability along with dozens of degrees, certificates and concentrations for undergraduate and graduate students.
About this story: Farm photos and video by Stacy Funderburke. Emory campus photos and student video by Emory Photo/Video.