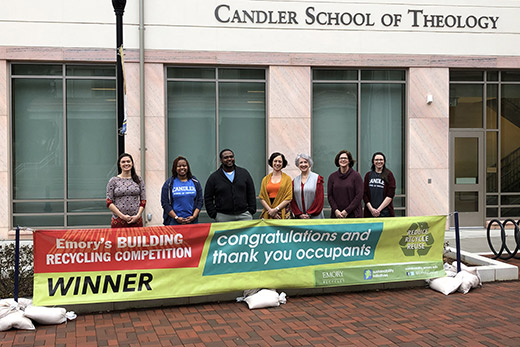 Each year Emory Recycles and the Office of Sustainability Initiatives hold a recycling competition to determine which university building has the greatest increase in waste diverted from landfills (by weight) for the month of November compared to volumes of the previous November.
The building winner for the 2019 competition is the Candler School of Theology/Rita Anne Rollins/Pitts Library complex, which composted and recycled 37,388.24 more pounds in November 2019 than in November 2018.
Across campus, the university diverted a total of 393.77 tons of material through recycling and composting in November 2019.
As the building winner for the competition, Candler will receive $3,000 to invest in equipment, education and outreach or other creative solutions that support increased landfill diversion at its complex. Previous recycling competition winners have used funding for new hydration stations, dedicated pizza box recycling bins and hosting an event to increase education about Emory's zero landfill waste initiatives.
Tarbutton Hall placed second in the 2019 competition by diverting 23,047.04 more pounds than in 2018 and Candler Library placed third with an increased volume of 18,656.30 pounds. Click here to see the top 10 buildings in the 2019 competition.
"Candler School of Theology, Rita Anne Rollins and the Pitts Library have always been ahead of the curve when it comes to recycling at Emory," says Deena Keeler, assistant director of auxiliary services, who oversees the Emory Recycles program. "Prior to the Emory Waste Policy that was implemented in January 2018, Candler always had deep commitments to sustainability in waste diversion and reduction. During the design phase of the building Candler ensured that recycling infrastructure was a part of the project scope."
"Our faculty, staff and students have become much more intentional about recycling over the last several years," says Sara McKlin, sustainability representative for Candler School of Theology. "We have equipped our facilities with plenty of recycling bins in central locations and provide information about Emory's recycling program to new students each fall and during new faculty/staff orientation. Plus, our eco-minded student organization, Creation Keepers, is very active in supporting Emory's sustainability efforts by challenging our community at the intersection of faith and environmentalism."
To read more about the policies and programs that help reduce waste at Emory, visit the Emory Sustainability Initiatives and the Emory Recycles websites.