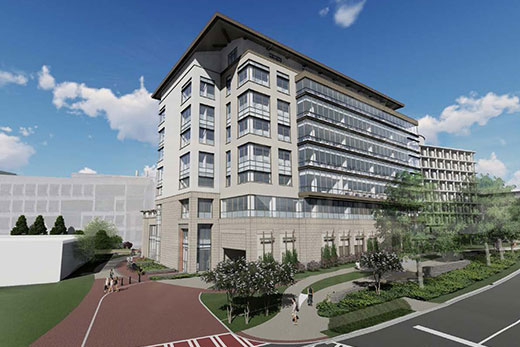 Construction will begin this month on the R. Randall Rollins Building, a 10-story facility that will significantly expand Emory's Rollins School of Public Health complex, providing new space for state-of-the-art learning, training and conference opportunities for faculty, researchers and students.
Plans for the new building were revealed last spring, with the announcement of a $65 million pledge from the O. Wayne Rollins Foundation to help construct a third Rollins public health building on the Emory campus.
The new facility will serve Emory's robust public health program with flexible spaces for distance-learning, training, study and offices, as well as larger rooms for conferences and community events. A continuous bridge on the first floor will connect to the Grace Crum Rollins and Claudia Nance Rollins buildings, which house six academic departments, more than 20 centers and 200 faculty members.
The new facility will be located between the Grace Crum Rollins and 1462 Clifton Road buildings. Site preparations will launch with the installation of safety fencing and the carefully regulated process of tree removal and replacement, set to begin as soon as the week of March 8.
The project will require the removal of approximately 88 trees — a mixture of hardwoods, evergreen and pine — from the site, which will be replaced by 212 new tree plantings in strategic campus locations, says James Johnson, university landscape architect.
The replanting plan was developed in alignment with Emory's comprehensive Forest Management Plan, which commits to the protection and stewardship of the university's urban woodlands and has long guided the preservation and regeneration of forested areas across campus.
Under that plan, before any tree may be removed, construction proposals must undergo rigorous scrutiny and reflect well-established campus land use principles, according to Johnson.
Campus construction must also follow Emory's No Net Loss of Forest Canopy policy, which requires that any time a tree is removed, a sufficient number of trees must be planted in order to maintain or exceed the original forest canopy, adds Johnson, who helped draft the forward-looking policy, which aims to sustain a healthy ecosystem and native biodiversity.
Maintaining Emory's forest canopy
Developed in 1999, the No Net Loss policy is thought to be one of the most rigorous university campus tree replacement plans in the nation, providing a precise formula that uses the size of a tree to help calculate the number of trees that must be planted in its place.
For this project, Emory's tree replacement plan was also developed in alignment with the City of Atlanta tree removal policy, which reflects its own stringent replanting standards, Johnson says.  Once Emory has completed tree removal and replacement, a city arborist will visit campus to individually inspect every newly planted tree and verify fulfillment of the plan.
Because of the age and size of the trees that must come out — none exceeds 36 inches in diameter — removal can be managed from within the property; no traffic disruptions are anticipated along Clifton Road, Johnson says.
Of the 212 replacement trees, about 55 will be returned to the project site or immediately adjacent to it. About 157 trees will be planted in other high-profile campus locations, with particular concentrations along Clifton, Haygood and North Decatur Roads, including targeted areas that have suffered earlier tree loss, disease or damage.
"By planting clusters of hardy, native canopy trees, we will be investing in the future — helping create shade and maintain our canopy, which offers the environmental benefit of reducing the heat island affect," Johnson says.
"Unshaded paved surfaces absorb heat and release it overnight, which makes our environment hotter and requires us to spend more on cooling buildings. These trees will also help reduce storm water run-off and absorb carbon dioxide emitted from cars," he adds.
Sustainability features
Construction of the 185,000-square-foot R. Randall Rollins Building should take about two years to complete.
The design, which provides nine stories above grade and one below, includes a number of features intended to promote wellness and sustainability, including a landscaped green-roof terrace, energy-efficient elements and the generous use of natural light.
The project includes no new parking structures. Instead, drivers who work at Emory or are visiting campus will be invited to use existing parking options.
The facility is currently on target to earn both LEED (Leadership in Energy and Environmental Design) Gold certification and WELL certification, which measures features that impact human health and wellbeing, according to project coordinators.
A groundbreaking ceremony for the R. Randall Rollins building is planned March 26 at 4 p.m.
For more information, please contact James Johnson at james.johnson@emory.edu