April is Earth Month and we are kicking off the festivities with...



The Earth Day Festival


The Earth Day Festival will be held on Tuesday, March 28, 2017 from 11:30am to 2:00pm at Asbury Circle. Stop by and enjoy a variety of sustainable food samples, music, a scavenger hunt and educational information from organizations in and around Emory University and Atlanta!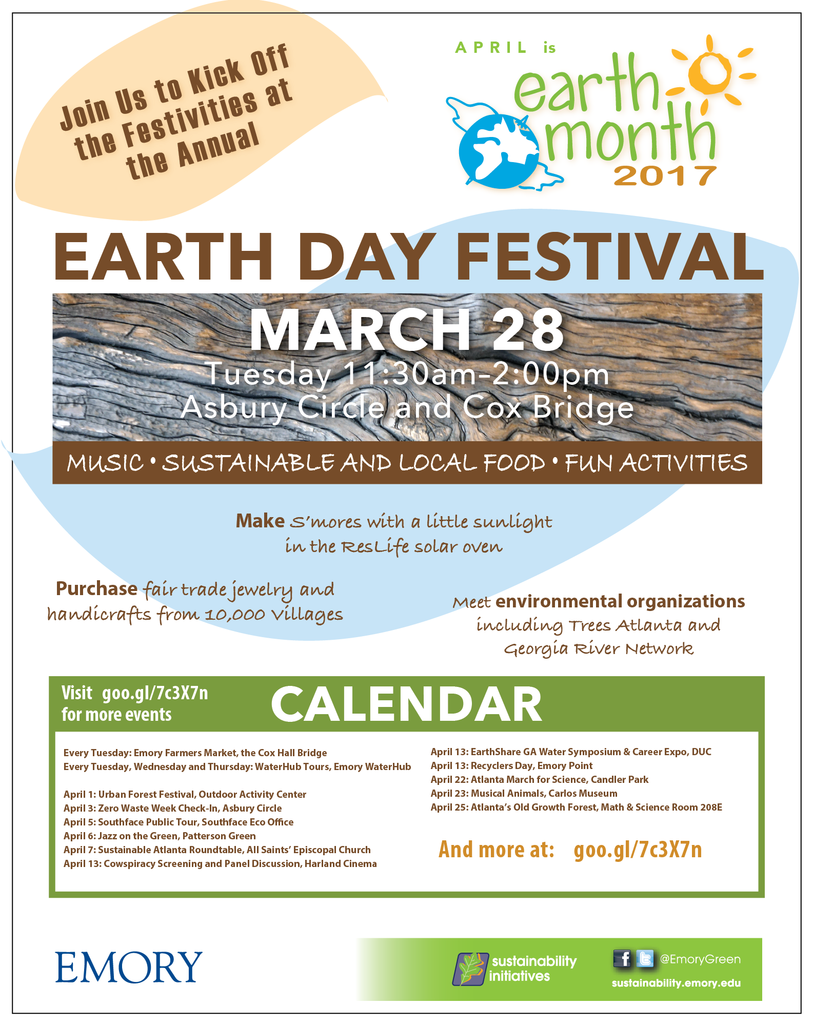 Earth Month Activities Calendar


Emory's Office of Sustainability Initiatives annual community Earth Month calendar compiles a broad range of events that celebrate people and diversity, and raise awareness on environmental and social issues. Departments, schools and groups can e-mail Elayne Elliott to add their activities on this year's calendar. You can download the calendar here.



EVENTS


Emory Farmers Market
Office of Sustainability Initiatives
Every Tuesday from 11am to 3pm
Cox Hall Bridge
The market serves as a gathering place for the Emory community and offers an opportunity to connect Emory students, faculty, and staff with local Georgia farmers and makers. All are welcome to learn more about sustainable production systems and healthy eating.

Emory WaterHub Tours
Office of Sustainability Initiatives
Tuesdays at 11:30am, Wednesdays at 1:00pm and Thursdays at 3:00pm
WaterHub Facility
Learn about Emory's award-winning WaterHub in trained,weekly, student-led tours. The facility is the first of its kind in the nation and uses biomimicry, engineered processes which emulate those utilized in nature, to clean the water. Individuals, classes, departments, committees and groups are welcome every Tuesday, Wednesday and Thursday this Spring. Please sign up to reserve your spot!

Tibet Week 2017
Emory-Tibet Partnership
Monday, March 20 through Friday, March 25
Carlos Museum Reception Hall
In partnership with the Carlos Museum, the Emory-Tibet partnerships celebrates Tibet Week with an array of talks, demonstrations and a special exhibit. See all events here.

Earth Month Festival
Office of Sustainability Initiatives
Tuesday, March 28 from 11:30am-2:00pm
Come out to our official Earth Month Festival to make S'mores in a solar oven, meet local environmental organizations and engage in games and conversations with campus groups.

Women's Leadership Conference
Georgia Tech, Historic Academy of Medicine
Saturday, April 1 from 8:30am-4pm
Georgia Tech's 18th Annual Women's Leadership Conference will feature a keynote, workshops, a networking fair, discussions, and included breakfast, lunch, and a dessert reception. For more information and to register, click here.

Urban Forest Festival
West Atlanta Watershed Alliance
Saturday, April 1 from 11am-4pm
Outdoor Activity Center - 1442 Richland Road, SW Atlanta, GA 30310
West Atlanta Watershed Alliance, the USDA Forest Service, and the National Wildlife Federation (NWF) invite you to celebrate southwest Atlanta's urban forests. This event is FREE and OPEN to the public, family-friendly and fun-filled for the whole family! For more information, click here.

Southface Public Tour
Southface Energy Institute
Wednesday, April 5 at 10am
Southface Eco Office - 241 Pine Street NE Atlanta, GA 30308
Interested in learning more about green buildings, tour the Southface Eco Office which is designed to use 50 percent less energy and 80 percent less water than traditional office building of its size. For more information, click here.

Zero Waste Week Check-In
RHA Sustainability Chairs
Wednesday, April 5 at 12:00pm
Asbury Circle
Join RHA Sustainability Chairs for their Zero Waste Week check-in. The goal is to get as many Emory students as possible to limit the amount of waste they produce by committing to produce zero waste for five consecutive days. This means reusing as many products as possible and includes limiting all items you would dispose of including recyclables. By signing the pledge you will receive daily email reminders of tips and advice to be zero waste. You will also receive a sticker, demonstrating your zero waste commitment. There will be a mid week check in during wonderful Wednesday.

100 Years of Women at Emory: Progress Marked by Many Milestones Center for Women
Wednesday, 4/5/17 from 6:30-8:30pm
Woodruff Library, Jones Room, 3rd Floor
This panel discussion with a notable group of Emory leaders will focus on the many ways access to higher education has empowered women, why women's history and voices matter, and what the future of Emory holds with the first female president at the helm.

Jazz on the Green
Emory Arts
Thursday, April 6 at 6pm
Patterson Green - 1700 North Decatur Road Atlanta, GA 30322
Join Emory Arts in celebrating National Jazz Appreciation Month with outdoor performances by Emory Jazz Ensembles on Patterson Green.

Sustainable Atlanta Roundtable
Southface Energy Institute
Friday, April 7 at 7:30am
All Saints' Episcopal Church - 634 West Peachtree St Atlanta, GA 30308
Join Southface for their monthly policy and discussion forum. For more information, click here.

Cowspiracy Screening and Panel Discussion
Graduate Sustainability Group
Thursday, April 13 at 6:00pm
Harland Cinema
Join the Graduate Sustainability Group in viewing the documentary Cowspiracy followed by a conversation with experts in the climate and food fields.

EarthShare GA Water Symposium & Career Expo
EarthShare Georgia
Thursday, April 13 from 9:30am-7:00pm
Emory University
Join EarthShare as they focus on water issues at Earth Day Water Symposium & Career Expo uniting the corporate, university and environmental communities. Students can attend the career expo showcasing volunteer, internship and employment opportunities for students and job seekers with EarthShare of Georgia Corporate Sustainers and member group organizations for free. Students are eligible to attend the entire conference for $100. For more information, click here.

Atlanta March for Science
March for Science Atlanta
Saturday, April 22 at 12pm
Candler Park
If you can't make the National March for Science in Washington, D.C., support this satellite march organized by volunteers here in Atlanta, GA. For the latest information, click here.

Musical Animals
Michael C. Carlos Museum
Sunday, April 23 at 4pm
Ackerman Hall
Legendary voice of classical radio in Atlanta Lois Reitzes narrates Ferdinand the Bull and Peter and the Wolf, with pianists Elena Cholakova and William Ransom.



Related Articles


• Earth Month Calendar 2016
• Emory's Earth Festival Kicks Off Earth Month 2015 Festivities